We'd like to invite you to join us on 20th and 27th April, for webinars hosted by in-cosmetics connect enabling you to learn about the new trends:
1) New Trends on Decoding Youth Beauty: Anti-Premature Aging against Blue Light and Inflammation (20th Apr., 15:45-16:15BST)
【Abstract】Fine lines, outline sagging, frail skin condition under blue light and inflammation, are you in anxiety of premature aging symptoms on face? Have you dreamt of being younger than peers? GREAF R & I team customizes an overall solution for groups with typical aged skin demands:
-14.8%, instant wrinkle away within 5 mins,
-29%, 3D anti-endogenous aging within 6 weeks,
-86%, save aged skin via blocking blue light,
-54%, relieve aged skin under irritation stress.
2) Say Goodbye to Nerve Hyperactivation of Sensitive Skin in Mask Era (27th Apr., 09:45-10:15BST)
【Abstract】Sensitive skin seems to be a global trend nowadays, especially under Covid-19, when everyone needs to wear face mask all the time. It worsens the skin condition and causes lots of discomforts such as tingling, itching burning, and redness on skin. GREAF offers a comprehensive solution to deal with such discomforts and irritation with the advanced study of anti-nerve hyperactivation and TRPV-1, and presents how to develop clean products for sensitive skin.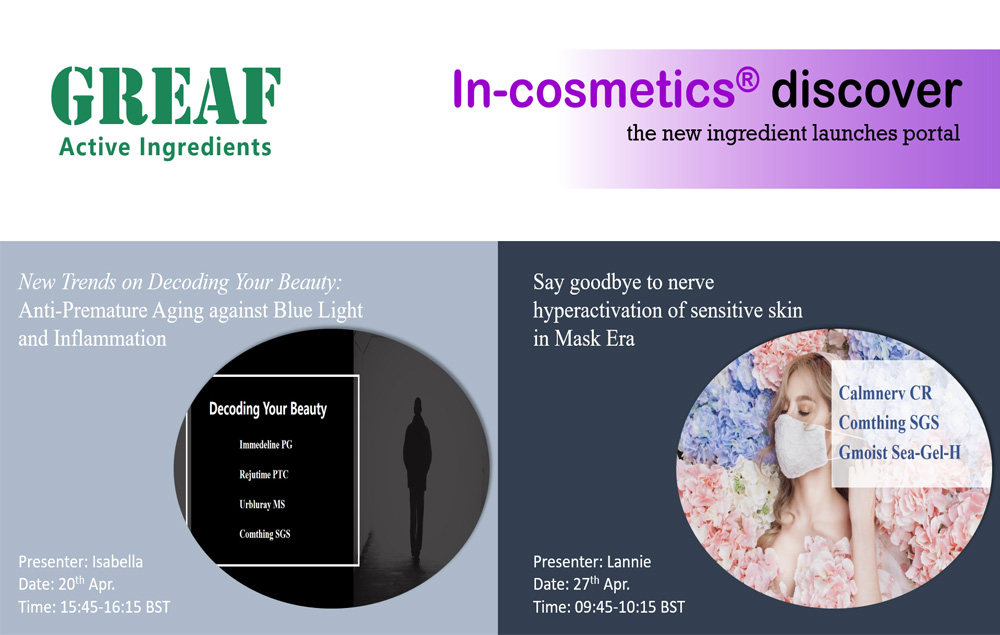 ---
Post time: Apr-19-2021